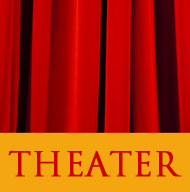 Faculty Productions
Fall 2017
The Pillowman, by Martin McDonagh
Directed by Assistant Professor-of-the-Practice Edward Torres
CFA Theater 
Thursday November 16, Friday November 17, Saturday November 18 - 8pm
Saturday November 18 - 2pm
A famous author of macabre stories is held in custody for a series of gruesome child murder that mirror the author's voice and details. When the detectives investigating these cases get caught up in this psychological thriller, the darker aspects of the human condition are revealed.
Spring 2018 
Life is A Dream, by Pedro Calderón de la Barca
Visiting Artist-in-Residence Shira Milikowsky
CFA Theater 
Friday May 4 & Saturday May 5 - 8pm
Saturday May 5 & Sunday May 6 - 2pm
"This life's so strange Living it is just a dream." A father so afraid of his son that he locks him in jail at birth. A woman so angry at her cheating lover that she travels across a continent, on horseback, to get revenge. A man falls asleep in a prison and wakes up in a palace. Life is A Dream – a story of extreme actions taken by extreme people – was probably written when Pedro Calderón was in his late 20's, a college drop-out disowned by his father for pursuing a life in the theater. Nevertheless, he went on to become a favorite of King Philip IV and a defining playwright of the Spanish Golden Age. Directed by Shira Milikowsky, this contemporary take on the classical play takes a deep-dive look into these extremes. In Calderón's world, as in ours, few things are exactly as they seem.
Click here to purchase tickets.
Senior Projects
Fall 2017 
The Good Person of Setzuan, by Bertolt Brecht, adapted by Tony Kushner
A Directing Thesis by Rose Beth Johnson-Brown '18
This production is in partial fulfillment for Honors in Theater.
'92 Patricelli Theater 
Thursday December 7, Friday December 8, Saturday December 9 - 7pm
The Good Person is a study of Bertolt Brecht's 1943 parabolic play. Drawing from Viewpoints training to the musings of the Frankfurt School ten performers take on this highly dynamic choreographic score to pose the question: are there any good people left in the world? In a time where good and evil feel very stark, this play is about desperation, first love, and the myth of morality.
 
Spring 2018 
99 Histories, by Julia Cho
A Directing Thesis by Yichen Eva Lou '18
This production is in partial fulfillment for Honors in Theater.
'92 Patricelli Theater 
Wednesday February 28 at 7pm, Friday March 2 at 7pm, Saturday March 3 at 4pm
99 Histories is a play about memory, legacy, trauma and the unbreakable bond between mother and child. Eunice, a Korean American former prodigy cellist, comes back home when a baby has unexpectedly taken root inside her. A box in her mother's closet leads her on a mystifying path to search for the legacy she carries. As Eunice confronts the ghosts of a difficult past, she also struggles to move forward with her present: to reconcile with her mother and to learn the meaning of "chung".
Click here to reserve tickets.

How I Learned to Drive, by Paula Vogel
A Directing Thesis by Emma Pasarow '18
This production is in partial fulfillment for Honors in Theater.
'92 Patricelli Theater 
Thursday March 1 at 7pm, Saturday March 3 at 1pm and 7pm
How I Learned to Drive follows the flawed but powerful relationship between Li'l Bit and her Uncle Peck. Told through a collection of memories, this play explores sexuality, trauma, love and moral ambiguity. The play is structured through various driving lessons Uncle Peck gives to Li'l Bit and as the intricacies of their connection are revealed, the play asks audience to examine the sometimes uncomfortable complexities of human relationships as experienced in the shadows of family intimacy and in the myriad of ways we define love.
Click here to reserve tickets.

(at)tend
An Acting Thesis conceived and performed by Katherine Paterson '18
This production is in partial fulfillment for Honors in Theater.
Location to be announced
April 22
Where does our food come from? How does it grow? Could our relationship with food affect our interaction with one another? Inspired by Patterson's work in New York City food communities Swale and Harlem Grown, (at)tend is a durational performance unfolding over the course of the spring semester. It will involve the collective construction, seeding, and tending of a greenhouse by performers and community members. This work-in-process will culminate in a performance and harvest day.
Senior Playwriting Festival
Location and Time: TBD
Nothing to be Afraid of

A Playwriting Thesis by
David L. Caruso '18
This written work is created in partial fulfillment for Honors in Theater.
What place does marriage occupy in our (millennial) imagination? Is it an expectation or a need? An uninviting institution, or a signifier of adulthood? What happens to those who find people, and what happens to those who don't? In 
Nothing to be Afraid Of
, a group of friends post-game their friends' wedding reception, discussing matrimony, love, aloneness, monogamy, and the banal terror of adulthood until sunrise.
Lost and Found
A Playwriting Capstone by
Elli Scharlin '18
Lost and Found
is a musical about a girl who loses her virginity and sets on a quest to find it. We travel with our protagonist, Spencer Maude, through the mystical woods of Askaround. Along the way, we meet characters like Andy Roger the lovable life-sized bunny, The Captain of the seamen and the Naughty Nautical Boys, and even Buster Hymen the Gatekeeper. A coming of age story that asks the questions: What is virginity? Can it be restored? Who cares?