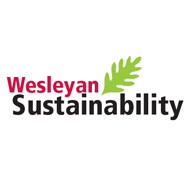 Student Sustainability Engagement
Student Groups
Wesleyan has nearly 20 student groups, projects, and programs that advance sustainability efforts on campus, in the community, and around the world.  
Environmental Organizers Network (EON), led by Kate Weiner '15 and Ally Ruchman '16, acts as an umbrella group for all sustainability-focused student constituencies on campus, including student groups, residence halls, program houses, and the WSA. EON organizes campus-wide events, including Earth Week, leads activism trips to Washington, D.C, and publishes the Green Scene, a weekly newsletter of campus sustainability stories and events. EON aims to provide an inclusive framework for any student interested in sustainability issues and happenings in the Wesleyan community. EON has served as the launching pad for many student groups on campus.
Wesleyan Green Fund
The student-run Wesleyan Green Fund supports campus sustainability projects through a $15 per semester opt-out fee.  The Fund accepts student, faculty, and staff proposals and chooses projects  based on their ability to make Wesleyan a more sustainable place. The Fund's members work with project applicants to tailor projects and provide financial and managerial support. The Fund exists to spur creativity, innovation, and collaboration within the Wesleyan community to empower green initiatives on campus.
Eco Facilitators Program
The Eco Facilitators are here!  EFs are peer-to-peer sustainability educators who promote sustainable lifestyle habits on campus. EFs will enroll in a year-long seminar course designed to equip them with the tools to collaborate with first-year students to encourage these behavior changes.  The first class of 11 EFs are now in Clark, 200 Church, WestCo, Butterfield A, and Butterfield C.  Contact ecofacilitators@wesleyan.edu with questions about the program.