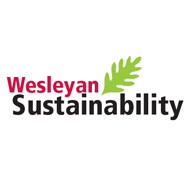 Student Sustainability Engagement
Student Groups
Wesleyan has nearly 20 student groups, projects, and programs that advance sustainability efforts on campus, in the community, and around the world.  
Wesleyan Green Fund
The student-run Wesleyan Green Fund supports campus sustainability projects through a $15 per semester opt-out fee.  The Fund accepts student, faculty, and staff proposals and chooses projects  based on their ability to make Wesleyan a more sustainable place. The Fund's members work with project applicants to tailor projects and provide financial and managerial support. 
Eco Facilitators Program
The Eco Facilitators are peer-to-peer sustainability educators who promote sustainable lifestyle habits on campus. EFs are part of a year-long program that includes a fall course designed to equip them with the tools to collaborate with first-year students to encourage behavior changes.  The first class of 11 EFs are in Clark, 200 Church, WestCo, Butterfield A, and Butterfield C; in 2015-16, they will also be in Bennet and Nicholson.  Contact ecofacilitators@wesleyan.edu with questions about the program.