Since 1831, Wesleyan has flourished as an institution because of generous and consistent support from generations of alumni, parents and friends. With your help and the help of tens of thousands of Cardinals, Wesleyan will continue to deliver the highest quality educational experience to exceptional scholars. Every gift, no matter the amount, is deeply appreciated. 
There is no better way to party than with a room full of Wesleyan alumni. Come celebrate and connect with friends, both new and old, and raise a glass to Wes during this year's annual GOLD Parties! On Thursday, April 6, Wes alumni will gather in Boston, Brooklyn, Chicago, D.C., Hong Kong, Los Angeles, New Haven, Philly, San Francisco, Seattle, Shanghai, and Singapore. Save the date and join the fun!
*Remember: The GOLD Parties are our annual fundraising event for young alumni. Please consider making a gift to Wes!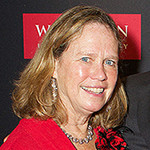 A Message from Barbara-Jan Wilson, Vice President for University Relations
To all the alumni, parents, students, faculty, staff and friends who contribute to help Wesleyan remain bold, creative and innovative. Thank you!