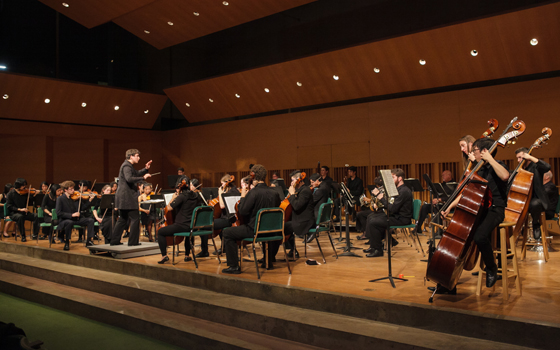 Orchestra Children's Concert and Musical Petting Zoo
Saturday, February 27, 2016 at 3:00pm
Crowell Concert Hall
FREE!
Click here to view the full album on Flickr.
Children can learn about all the instruments in the orchestra and how they work together. The performance by the Wesleyan University Orchestra under the direction of Adjunct Assistant Professor of Music Nadya Potemkina will feature Maurice Ravel's Mother Goose suite, telling the stories of Sleeping Beauty, Tom Thumb, and Beauty and the Beast. The orchestra will also perform music from Bugs Bunny cartoons, and a suite from the movie How to Train Your Dragon. The concert will be followed by a multi-station instrument petting zoo—a great experience for children of all ages!







A World of Arts in the Heart of Connecticut