Chado: The Way of Tea
This exhibition runs Wednesday, September 12, 2018 through Friday, November 30, 2018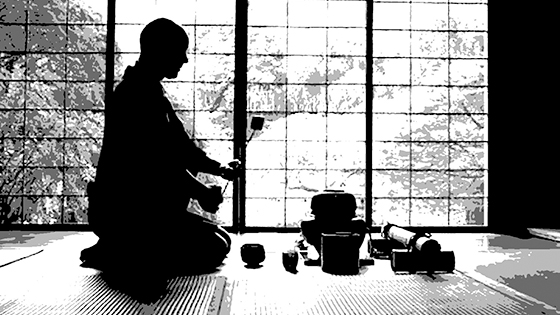 Opening Reception:
Wednesday, September 12, 2018 at 12:00pm
College of East Asian Studies Gallery
FREE!
For more than a century, American artists, architects and landscape designers have been inspired by the beauty, simplicity and underlying philosophy of traditional Japanese arts. The aesthetic characteristics and the underlying spiritual basis of these arts can be traced back to monasteries in China and Japan where they have evolved for over a thousand years in the arts of Zen. This exhibition explores the prominent role and significance of the tea ceremony as an art and spiritual practice in China and Japan. Objects displayed have been selected from the Wesleyan collection and loaned by tea enthusiasts in the Wesleyan community. Several media are represented, including ceramics, lacquer ware, bamboo, wood, iron, textiles and calligraphy. In addition, photographs from National Geographic photographer Michael Yamashita '71 will be featured. This exhibition is curated by Stephen Morrell and supported by a grant from the Freeman Foundation.
RELATED EVENTS
Monday, September 24, 2018 at 4:30pm: Tea Ceremony Talk and Demonstraton with Stephen Morrell
Monday, October 1, 2018 at 4:30pm: Film Screening—Rikyu (1989), directed by Hiroshi Teshigahara
Wednesday, October 17, 2018 at 4:30pm: Lecture by Talia Andrei—Tea Culture and Japanese Aesthetics
Saturday, November 3, 2018 at 2pm: Tea Ceremony with Ikumi Kamanishi and Stephen Morrell
Tuesday, November 6, 2018 at 4:30pm: Sung Poetry and Tea with Ao Wang
GALLERY HOURS
Open Monday through Friday, 12pm-4pm
(The exhibition will also be open on Saturday, November 3, 2018)

College of East Asian Studies, Wesleyan University
Mansfield Freeman Center for East Asian Studies
343 Washington Terrace, Middletown CT 06457
860-685-2330
Please follow us on Facebook.