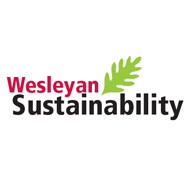 Waste Not Tag Sale
Waste Not is an annual tag sale held move-in weekend that is run by Sustainability Interns and student volunteers.  In May, Sustainability Interns place donation bins in centralized locations for you to get rid of your reusable stuff.  Everything collected at the end of the spring semester is either donated or sold to students to help you to have an awesome space!  It is run and maintained entirely through the commitment of the Wesleyan community, and truly exemplifies the incredible power in reusing.  For information about the spring collection, click here.
2014 Sale
Dates: Saturday, August 30, and Sunday, August 31
Time: 12-3 PM each day
Location 1: Garage behind 58 Fountain Ave. (couches, chairs, futons, other furniture, rugs)
Note: this location may be closed on August 31st if most furniture is sold
Location 2: Garage behind 44 Brainerd Ave. (mini fridges, microwaves, lamps, mirrors, fans, electronics, kitchen appliances, hangers, decorations, school supplies, household items, and  much more!

Items for sale
Prices are subject to change.  Please contact wesustainability@gmail.com for questions about priciing and what's available.
Furniture: couches, loveseats, futons ($40-50), arm chairs ($30-40), dressers ($20-30), desks ($10-50), desk chairs ($5-20), bookshelves ($5-25)

Refrigerators ($35-40)

Microwaves ($20-25)

Lamps: desk ($5-10), floor ($10-20)

Electronics: TVs, speakers, printers, etc. ($5-30)

Appliances: coffee pots, fans, electric kettles, rice cookers ($5-15)

Hangers (20 for $1)

Rugs ($15)
Mirrors ($10-20)

Bathroom items ($1-3)

Kitchen items: dishes, cutlery, pots and pans, baking sheets, cups and mugs, water bottles ($1-5)


Alarm clocks ($5)

Books (including textbooks and course packs) ($1-15)

School supplies (notebooks, binders, pens, rulers, art supplies, paper)

($1-5)

Decorations: posters, wall hangings, knick knacks ($2-3)

From 2009-2013, Waste Not has raised $17,000 for local charities, environmentally-based projects, and financial aid, as well as funding for Wesleyan sustainability programming.  In 2013, donations supported Financial Aid and the Amazing Grace Food Pantry.