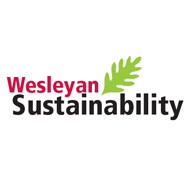 Recycling and Waste Initiatives
We've Done It
Listed below are green initiatives that have been implemented.
 
Initiative
Notes
1
Contract documentation requires separation of all construction/demolition debris for reuse or recycling
 

2

Purchasing recycled or recycled content material:

Vinyl floor tile which has a recycled content from old gypsum wallboard of >10%
Carpet tiles with a recycled content of >40% from #1 & #2 plastics
Blown in insulation made from 100% newsprint
New artificial turf field made with ~20,000 pounds rubber tires
New Office furniture and cubicle components:

Steel has a 25% recycled material content

Hardboard has a 90% recycled material content

Fiberglass has a 20% recycled material content

Corrugated packaging has a 74% recycled material content

Aluminum is 100% recycled content

Plastics have a 21% recycled material content

100% of the fabric is from recycled materials

 
3

Wesleyan participates annually in 

RecycleMania with 200 colleges. 2012 statistics:

4th place out of 168 schools in Corrugated Cardboard
24th place out of 339 schools in Per Capita Classic
127th place out of 296 schools in Gorilla
163rd place out of 179 schools in Waste Minimization

 
4
Usdan, Summerfields, Pi Café and Star & Crescent Restaurant are now composting approximately 125 pounds per week of pre-consumer food scraps in an Earth Tub for use at the Long Lane Farm.
 
5
Fluorescent light bulbs are recycled through a vendor who recovers >99% of all components (Bring your used CFLs to the Cardinal Technology Center to recycle them).
 
Emissions from waste management include those associated with removal and transport of waste materials on campus. Actions that institutions can take to reduce and eventually eliminate emissions associated with their waste management practices include:
reducing the volume of material flows on campus
establishing and continually improving comprehensive recycling and composting programs
promoting the concept cradle-to-cradle sustainable product design, in which "waste equals food" by purchasing goods that are designed to be recycled and/or composted (see also "Procurement")
establishing programs to reuse or resell items left behind by students
working with the local and regional community to improve recycling and composting infrastructure and policy