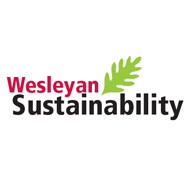 Procurement
Emissions associated with procurement are significant, and also represent a great opportunity for Wesleyan to reduce emissions associated with activities beyond the border of our institution in a way that is competitive and financially attractive. A proactive sustainable procurement plan can be a powerful leverage point for reducing not only our carbon footprint, but also that of our suppliers. Actions that we can take to reduce and eventually eliminate emissions associated with our procurement policies include:
buying locally produced goods and services to reduce emissions associated with transport
buying lower impact products, such as those made from recycled materials, thereby reducing the lifecycle emissions associated with extraction and processing of materials
supporting "cradle-to-cradle" sustainable product design by purchasing goods deliberately designed to be recycled and/or composted
promoting education around the concepts and practices of climate neutrality and sustainability by engaging with suppliers throughout the supply chain
encourage suppliers to use alternative fuels in transportation of goods
Since early 2007, Wesleyan University has practiced sustainable purchasing, the preferential procurement of supplies and services that have as little environmental impact as possible. In the past few years, the Purchasing Department has developed primary contracts with several suppliers, including WB Mason and Fisher Scientific, that offer alternative sustainable products for both office and laboratory. Purchasing continues to reduce supply chain waste through consolidated ordering and scheduled deliveries, so that products are delivered in bulk instead of through many smaller deliveries, and reductions in supplier packaging materials. These efforts, along with the collaboration from transportation and the purchase of hybrid and electric vehicles have actively demonstrated its commitment to sustainability.
Contact Information
Olga Bookas, SAGES Procurement Subcommittee Chair
(860) 685-2122