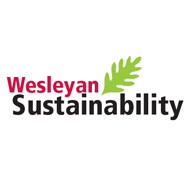 Energy Projects
Emissions generated as a result of energy consumption (including both electricity and heating/cooling) represent the majority of Wesleyan's greenhouse gas emissions. To neutralize these emissions, we will have to:
reduce energy use as much as possible, through behavior change initiatives to encourage conservation and upgrades to more efficient buildings, infrastructure, and appliances;
generate our own energy from renewable and carbon neutral energy sources - like solar, wind, geothermal, biogas, and biomass;
work with our electricity providers to increase the percentage of renewable energy in our fuel mix;
purchase electricity derived from renewable sources by buying Green-E certified renewable energy credits (RECs);
offset remaining emissions.
educate students about energy saving programs, such as Do It in the Dark.
Contact Information
Peter Staye, SAGES Energy Subcommittee Chair
(860) 685-3773