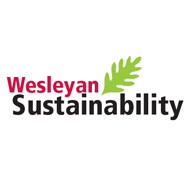 Information on our sustainability initiatives
Wesleyan tracks our sustainability progress in several ways.  We complete annual greenhouse gas inventories, have completed a Climate Action Plan (and subsequent revisions), and are now participating in the AASHE STARS program.  Wesleyan's STARS data will be collected over the 2012-2013 school year and will be available in Fall 2013.
If you have a data request, please read the following before making a request:
 For greenhouse gas inventories or our climate action plan, visit the ACUPCC reporting website and click on the relevant link. 
Greenhouse Gas Inventory
square footage included in GHG inventory;
electricity use;
heating fuel use;
fuel used by campus vehicles (fleet);
commuting estimates of faculty/staff and students;
total waste and compost generated; and
agricultural information (fertilizer use).
Climate Action Plan
Information on academics, energy, facilities, transportation, waste, and Wesleyan's sustainability vision.
For other requests, please email Jen Kleindienst. In your request: 
1) Specify what data you need and,
2) Provide a date when you need the data by.