Meet Chaplain Sami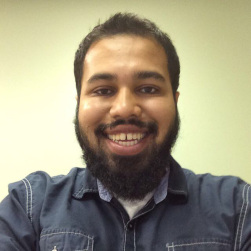 Chaplain Sami Aziz is the Muslim Chaplain at Wesleyan University. Sami has studied various classical Islamic sciences in his studies within the United States and abroad and holds a Masters degree in Islamic Studies & Muslim-Christian Relations from Hartford Seminary. In addition to his work at Wesleyan, Sami serves as the Muslim Chaplain at Quinnipiac University and as the President of Common Ground Instiute & Services www.CommonGroundServices.org.
Sami has worked with and in over a dozen educational and service-based organizations in the American Muslim Community over the last decade. Sami is a public lecturer on Islam, Interfaith work, Muslim culture, and various other topics. He travels regularly to different communities across the New England to speak and organize events. Sami spends his free time commenting on popular culture, playing basketball, reading news, and adventuring his way through nature.
To connect with Sami, email him at saziz@wesleyan.edu.