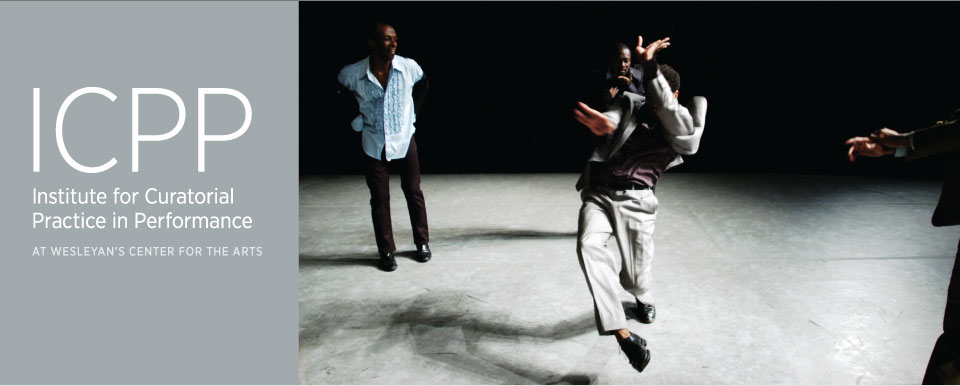 Selected Student Projects

From Jane Gabriels' project Hunts Points Homes: Marion Ramirez and Jung Woong Kim (photo: Miguel Anaya, 2012)
Sarah Curran
Director, Center for the Arts, Wesleyan University
(Project realized: 2012)
View a video about the project.
Picture Jasper Ridge
is a performance hike and new work by choreographer Ann Carlson, the inaugural visiting artist at Stanford University's Jasper Ridge Biological Preserve. In
Picture Jasper Ridge,
Carlson restages archival photographs, unearthing the history and the trajectory of this land. Audience members follow trained docents on silent tours through the preserve, encountering performers staged in grayscale, frozen still, recreating an archival photograph on or near the spot where the photograph was originally taken.
Picture Jasper Ridge
asks us to consider not only how we tell our history through formal methods, but also, how that history gets reperformed in the space of our day-to-day lives, and how we document, research, and preserve.
Jerry Dannemiller
Senior Vice President, Strategic Communications and Marketing at United Way of Central Ohio
(Project realized: 2012)
View documentation of the project.
Bebe Miller: Tracing History was a project that grew out of ICPP into an exhibition (which was on view at Ohio State University's Urban Arts Space August – October 2012) that brought together archival material, sets, rehearsal and performance video, music, conversations with peers, and a new installation by video artist Maya Ciarrocchi. Together, these objects explored Bebe Miller's ideas and achievements over a 25-year career in a new setting. The exhibition complemented the September 2012 world premiere of A History, The Bebe Miller Company's latest project, and was presented in conjunction with tours, artist salons, and gallery talks.
Heloise Darcq
French Teacher, French Cultural Center of Boston
(Proposed Project)
...It's About Time! is a proposed curated evening of performances and discussions that address the theme of passing time. The evening, which includes dinner, takes place over the course of six hours in the French Institute Alliance Francaise (FIAF)'s Le Skyroom and engages participants in an experience that encourages reflection on concepts of time as well as new perspectives.
 Jane Gabriels
Artistic and General Director, Pepatian
(Project realized: 2012)
Hunts Points Homes will focus on a multi-disciplinary collaboration of Afro-Caribbean-Latino artists acting as catalysts in drawing attention to the residents, history and approaching changes happening to the Hunts Point section of the South Bronx. Over the course of one year, the project proposes to support a series of three-five intensive artist residencies in conjunction with discussions and workshops with urban studies scholars, city planners, architects, small business owners, other artists, community board members, and residents around the history and future of the neighborhood. Lead organization: Pepatian.
First round of artists: Alicia Diaz, Hatuey Ramos Fermin, Jung Woong Kim, Marion Ramirez, and Matthew Thornton.
Collaborating partners: BAAD!/Bronx Academy of Arts and Dance, and Wesleyan alumnae Majora Carter.
Current funders: New York City Department of Cultural Affairs; others pending.
Project was launched at Danspace Project, May 2012.
Ellina Kevorkian
Interdisciplinary Artist and Independent Curator 
(Project realized: 2012)
Recollecting Performance presents Southern Californian performance artists and the performance garments they wore through 1970–1983. Innovators of a movement that would forever change thinking about art and the body, these artists brought issues of race, gender, and politics to its borders. This experimental approach to exhibiting performance art invites viewers to imagine themselves within the garments and the performances represented. Framed by memory and in line with the oral tradition of sharing experiences of performance with others, the artists who originally wore these garments create secondary performances by their reconstructions, installations, and audio recordings. The figural void contained by the garments, along with smells, shadows, and stains, engage the memory of the artist and the imagination of the viewer.
Jaamil Olawale Kosoko
2017-2019 Princeton Fellow in the Arts, Princeton U.; APAP Leadership Fellow, Association of Performing Arts Presenters
(Project realized: 2013)
other.explicit.bodies. is two curated evenings of performance presented as a part of Dance New Amsterdam's LATE NITE series, a triannual event that gives a voice to artists working within the mediums of performance art, burlesque and experimental theater. The artists featured in other.explicit.bodies. deal explicitly with themes of eroticism, gender politics and otherness in live performance.
Juliana Mascelli
Dance Specialist at the National Endowment for the Arts, Washington, DC
(Project realized: 2013)
Anacostia Lasagna will highlight the food culture of the Anacostia community through a participatory, performative experience as a part of the opening festivities of the LUMEN8Anacostia Festival. The all-day performance, led by the Washington, DC-based performance group banished? productions, will call for Anacostia residents to contribute gifts to layer into a "creative lasagna": rolling pins, water, salt, flour, eggs, conversation with neighbors, stories, music and song, chairs, laughter. Residents and participants will be asked to collectively make a pasta dough recipe that they will roll and assemble into four different lasagnas that take inspiration from the neighborhood. This communal performance of food-making and food-partaking, accompanied by local voluntary musicians, with a backdrop video screening of pre-recorded stories as told by residents, aims to gather the community in the creation of a communal narrative, and reinvent the concept of what a performance is, and what the act of eating should be.
*The project did not receive the required funding, which prioritized Anacostia resident artists, so it was not produced at the LUMEN8 festival as originally proposed. The project is, however, undergoing a transformation while retaining its intent to creatively gather the community. banished? productions and Juliana are continuing to work with the Honfleur Gallery in Anacostia to realize this vision.
Adrienne Petrillo
Program Manager, Presenting & Touring at New England Foundation for the Arts
(Proposed Project)
Based on the grounds of former dairy farm in rural Ashfield, Massachusetts, Double Edge Theatre has blended their artistic process and product into a living culture that embraces the assets of the local community. Drawing on their long history of hosting local artists and international artists for collaboration with the ensemble, The Barn at Double Edge is a new project to bring performing artists from New England and beyond to explore a wide range of opportunities for artists and audiences to reflect on the meaning of community through performances and residencies. For her project, Adrienne curated an inaugural year of programming for The Barn at Double Edge with input from the Double Edge Theatre ensemble members.
Jerry Tischleder
ArtsHub Director, Artists Repertory Theatre; Producing Artistic Director, Risk/Reward Festival
(Proposed Project)
The Risk/Reward Theater Series is a season of contemporary theater performances presented in Portland, Oregon. Risk/Reward aims to support the creation of new performance work and the advancement of the art form while also providing direct, meaningful opportunities for local audiences to interact with the artists and hear them discuss their work. The curatorial focus of the series is to give viewers a lens with which to examine themselves and the surrounding world, while provoking variable and relational responses to the work.
ICPP project advisors have included: Philip Bither, Doryun Chong, Sara Coffey, Kristy Edmunds, Cathy Edwards, Susan Farr, Victoria Frey, Judy Hussie-Taylor, Nunally Kersh, John Killacky, Claudia La Rocco, Thomas Lax, Mary Luft, Stanford Makishi, Angela Mattox, Samuel Miller, Georgiana Pickett, Alisa Regas, Mark Russell, Ralph Samuelson, Yoko Shioya, Andrew Simonet, Peter Taub, Laurie Uprichard, and Sixto Wagan
Master's Theses: Class of 2017
Paige Blansfield
Program Associate at American Express
WORDS, LIFE, AND ALL: Language, Performativity and Engagement in the Theater  

Christy Bolingbroke
Executive / Artistic Director of the National Center for Choreography at the University of Akron 
Designing a 21st Century Dance Ecology: Questioning Current Practices and Embracing Curatorial Interventions
This research, straddling the artistic and the administrative, mines the ecological roles of artists, presenters, and funders across dance. Anecdotal data and research is cross-referenced against the New England Foundation for the Arts' field-wide survey on the twentieth anniversary of the National Dance Project. This work explores the current condition of how dance is made and distributed in this country; highlights how and where its players interact; and inquires if we understand and truly see the goals we are trying to achieve, the problems we are trying to resolve.
Jaamil Olawale Kosoko
Performance Curator and Performance Artist
The Blood Was On Their Shoulders: Mapping Black Intersectional Identities within Curatorial Practice

Cori Olinghouse
Artist, Archivist, and Curator
Mapping the Unruly: Imagining a Methodology for the Archiving of Performance 
"Mapping the Unruly: Imagining a Methodology for the Archiving of Performance," develops an experimental framework for the archiving of performance, focusing on choreographer Melinda Ring's 1999 work, "Impossible Dance." This graduate thesis describes a prismatic approach to the archiving of "Impossible Dance," which manifests in three forms: a performance transmission structure, a digital publication, and a printed book. Each of these forms plays with the impossibility in archiving the unruly—a conceit staged to intervene in institutional approaches that privilege the codifying of form over the nature of improvisational experience. Additionally, this thesis asks how the archiving of the impossible might press against what is possible and legible in the field of archiving.

Jessica Wasilewski

Producer, Park Avenue Armory, NYC
Effecting Dynamic Cultural Exchange Through the Performing Arts: Three Case Studies of U.S. Exchange with Asia
This research identifies innovative practices for dynamic cultural exchange through the performing arts by way of a focused analysis of three cases of U.S. exchange with Asia:Festival of Indonesia In Performance (1990-1992), Dance, the Spirit of Cambodia (2001), and Season of Cambodia (2013).    



Master's Theses: Class of 2016
John Andress
Curator of Performing Arts at the Institute of Contemporary Art Boston
Choreographic Transformations: Creative Documentation in Dance

Megan Brian
Assistant Director of Education and Public Practice at San Francisco Museum of Modern Art
COME TOGETHER: CHANGING MODELS OF ARTS ORGANIZATIONS IN SAN FRANCISCO
Randal Fippinger 
Producing Director at Williams College '62 Center for Theatre and Dance
Practicing Community: Examining and Reimagining Community-based Performance Practice in Williamstown
 
Julie Potter
Director at ODC Theater
Curating Encounter in the Public Square





Image above: South Studio at night, Center for the Arts, Wesleyan University