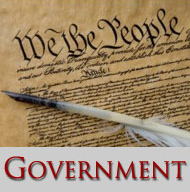 Kent Freeze received his Ph.D. from Duke University in 2012.  His research interests lie in the intersection between comparative political economy and public opinion.  His dissertation examined how different political and social contexts shape micro-level concern with economic inequality and support for government led redistribution around the world.  He is also interested in contemporary Chinese Politics, with current research examining how rural to urban migration is changing political behavior and attitudes.
Professor Melanie Freeze recently received a Doctorate in Political Science in May of 2012 from Duke University. Her dissertation, entitled Rallying Around the Party: A Theory of Party Identity Linkage, addresses the questions of when and why people are emotional in response to politics and polarized in their evaluations of political candidates. She argues that when politics become personal through strong party identities and the relative standing of a party is threatened, people are more likely to be biased and polarized in their perceptions of the relative parties and any related objects. Prof. Freeze has coauthored with John H. Aldrich a chapter entitled, "Political Participation, Polarization, and Public Opinion: Activism and the Merging of Partisan and Ideological Polarization," which was recently published in the edited volume, Facing the Challenge of Democracy. She is currently involved in other on-going research projects spanning the topics of repeat presidential donations, candidate voice pitch and gendered attributions, the role of source bias on the persuasiveness of political messages, and methods used to improve survey measures.

Prof. Sheetz has been teaching international relations for over ten years.  He has taught courses in American foreign policy, US-European relations, International Security, and the Nuclear Age at Dartmouth College, Wesleyan University, and most recently at Boston College.  He also taught courses for career diplomats and military officers at the Geneva Centre for Security Policy in Switzerland.  Prof. Sheetz received a Doctorate in political science from Columbia University, a Masters in international relations from SAIS, and a Bachelor's degree in government from Dartmouth College.  He was a Fellow in National Security Affairs at the Olin Institute for Strategic Studies at Harvard University, a Fellow in International Security Affairs at the Belfer Center for Science and International Affairs at Harvard, and a John M. Olin Fellow in International Security Studies at Yale University.  At Yale, Prof. Sheetz had the opportunity to lecture in the course on Grand Strategy, directed by John Lewis Gaddis and Paul Kennedy.  He has also lectured at the NATO Defense College in Rome, the Ecole Supérieure de Guerre in Tunis, the Ecole Royale Militaire in Brussels, the Slovak National Academy of Defense in Bratislava, and the Committee on National Security Policy of the Swiss parliament in Bern.  His scholarly articles on American foreign policy, European politics, and international relations theory have appeared in journals such as International Security, Security Studies, Foreign Policy, and the Journal of Cold War Studies.  Prof. Sheetz is currently working on a book manuscript, provisionally titled France, Germany, and the Transformation of Europe, which examines the origins of postwar European political and economic cooperation through the prism of Franco-German relations.