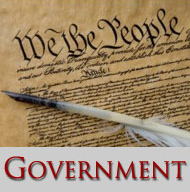 New Courses for the Fall 2012
The Department is offering eight courses or sections of courses that were added very recently to the Fall 2012 curriculum. During the drop/add period from Monday, September 3, to Friday, September 14, 2012 any student may submit an enrollment request for any of the courses below, or for any other course in the Government Department. if a seat in the course is available, or becomes available, the instructor will contact you.
If you are thinking of becoming a Government major, you should note that only one introductory (100-level) course may count toward the major.
Section 03 of Government 151 (American Government and Politics) is a first-year initiative (FYI) course. FYI courses are open only to frosh. 
| | | | | | |
| --- | --- | --- | --- | --- | --- |
| Course Nº | Course Title/WesMaps Link | Instructor | Days | Time of Day | Seats |
| GOVT 151-02 | | Freeze, Melanie | TT | 09:00 - 10:20 | 19 |
| GOVT 151-03 | | Freeze, Melanie | TT | 02:40 - 04:00 | FYI 19 |
| GOVT 155-03 | | Sheetz, Mark | TT | 10:30 - 11:50 | 30 |
| GOVT 157-02 | | Freeze, Kent | MW | 08:30 - 09:50 | 19 |
| GOVT 157-03 | | Freeze, Kent | MW | 02:40 - 04:00 | 19 |
| GOVT 297 | | Freeze, Kent | TT | 01:10 - 02:30 | 25 |
| GOVT 369 | | Freeze, Melanie | We | 01:10 - 04:00 | 15 |
| GOVT 386 | | Sheetz, Mark | Tu | 01:10 - 04:00 | 12 |