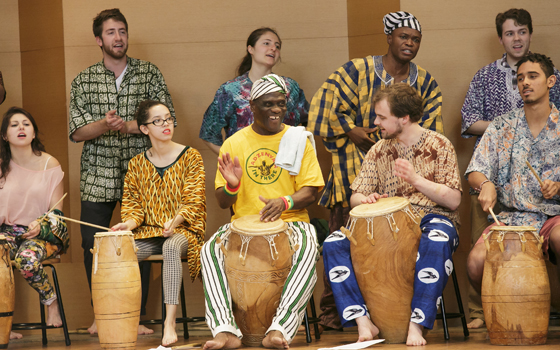 46 Years of Adzenyah at Wesleyan: West African Drumming and its Role in Liberal Arts Education
Saturday, November 7, 2015 at 3:00pm
CFA Hall
FREE!
Ghanaian master drummer and Adjunct Professor of Music Abraham Adzenyah is retiring after 46 years at Wesleyan. What has been the impact of this consistent and profound presence of West African drumming on students at Wesleyan?  Join alumni and Mr. Adzenyah's students, including Faith Conant '82, Russell Hartenberg Ph.D. '74, Marvin "Doc" Holladay, Robert Levin '81, David Locke BA '72, Ph.D. '79, Joe Galeota MA '85, and royal hartigan MA '83, Ph.D. '86, as they reflect on Mr. Adzenyah's influence on them and the trajectory of their lives.
A World of Arts in the Heart of Connecticut