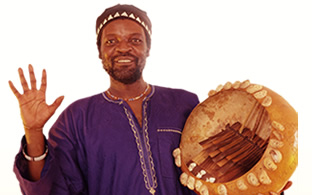 Zimbabwean Mbira Master Chartwell Dutiro with Timbila
Wednesday, September 23, 2015 at 8:00pm
World Music Hall
FREE!
Musician, singer, song-writer, composer, and author Chartwell Dutiro has played the Shona mbira virtually his entire life. From his village childhood in Southern Rhodesia (now Zimbabwe), when he played at ceremonies with a local spirit medium, to his years performing and recording with Zimbabwe's iconic Thomas Mapfumo and The Blacks Unlimited, to his more recent career as a teacher, solo artist, and bandleader in the United Kingdom, Mr. Dutiro has cut a remarkable path through African music. His collaboration with the New York City-based Timbila breaks new ground in the evolution of mbira performing with western instruments. The group Timbila features Nora Balaban on mbira, timbila (xylophone), and vocals; Banning Eyre on guitars; and Dirck Westervelt on bass.
A World of Arts in the Heart of Connecticut